Hello QHians!!!
 Congratulations to the entire cast and crew on achieveing the 200th episode milestone!!! 
 
It's raining LOVE, downpour in Khan Villa and light drizzle in Khan Mansion

Watershed moment @ Khan's Villa (Asad's House): Exit of TanveerEver since the unceremonious exit of Tanveer, little rushed up part- expose, peace and happiness is back in Asad's adobe. The family sits and dines together after ages, Zoya cracks her trademark shayari and Dilshad announces that Asad-Zoya should get married without much fanfare meaning, the nikaah should be kept a secret. Asad is a changed man; he realized the importance of love, trust and understanding for Zoya in one of the hardest ways and is going all out to woo her, to spoil her and to make all her silly, crazy wishes of her "would be husband" come true. :heart:  He has started voicing out his emotions "mere liye sirf yeh nikaah maaine rakhta hai" and the fear of snapping out of the dream like situation as "khwaab na toot jaaye". He finds himself in "so good to be true" like situation, gets embarrassed by his own display of feelings but does not check himself as times have changed.

 The week was full of light and cute romantic moments (Me thinks, the CV's have introduced the wishlist scene to calm down the nerves of fans who were tired of months' of Tanu torture and also to prepare for the next hurricane which is soon going to hit the Khan Villa, a calm before the storm, 2 weeks of Asya dose to counteract the coming tsunami) where Asad fulfills Zoya's wishes of getting her breakfast in bed, danced like her favorite star, Salman Khan, brought the galaxy of stars in her bedroom, holding her hand and spending moments of heavenly bliss. Zoya is overwhelmed with his gestures  

 and is afraid if her "khushiyon ko nazar lag jayegi". :rendeer: Dilshad has already started preparing Zoya to take the responsibilities of the house, handing over the keys, documents and most importantly finding a groom for Najma.:) Watershed moment @ Khan's Mansion (Rashid's house): Entry of VikramVikram enters KM impersonating as Humeira aka Rajni's husband and both are about to leave when Ayan had the first panic attack of losing Humeira forever again and he convinces his family members as well as Vikram-Rajni to stay put in the house till they do not have a house of their own. Though he gets involved in finding Badi B whereabouts but at the same time, Humeira remains his first priority, he is putting a close tab on what and how is she living with Vikram. The jealousy, the anger, the helplessness, the care, the concern has been slowly but surely giving the shape of love for her which he has been denying till date.

 Add to that, a dash of pep talk from Nikhat and Asad.

  Humeira –Ayan had some really nice intense scenes and both of them did a fantastic job. Vikrant and Ketki have given soul and substance to this track.

 Meanwhile Razia is again on a mission to move Badi B to an isolated location and she accidentally bumps into Vikram's real face (he is a small time crook who is out to take an advantage of Humeira's situation as he overheard her plight when she was talking to the priest in the temple). Razia doesn't lose any time in making Vikram her ally and hands him the job of transporting Badi B out of KM

  but as luck would have it, both Humeira-Ayan come in the nick of the time and hopefully Badi B stays mute for some more time in KM but in all this commotion, Ayan-Humeira get symbolically married as Ayan has tied mangalsutra around Humeira's neck.

 Haseena Bi continues to humiliate Nikhat on her complexion and has handed over a long list of demands as dowry while Humeira motivates her to stand up against injustice and SPEAK OUT.:sunny: Highs of the week:Awesome photography, once again and the art direction and not to forget my favorite, Harley Davidson: WOW!!!:geek: Top scenes: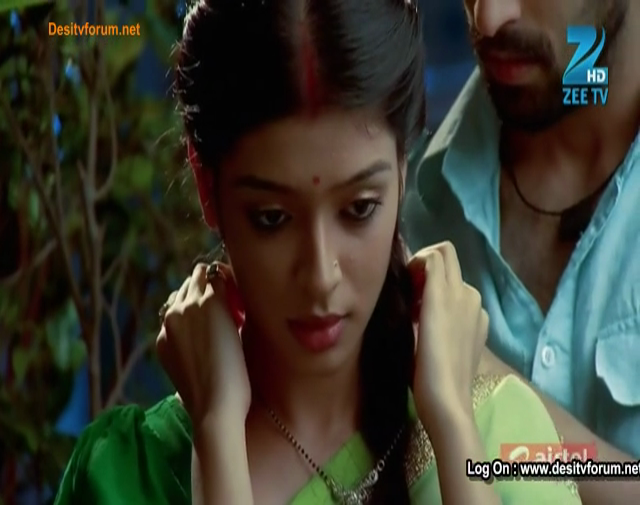 Lows of the week:The indefinite drag of Badi B is taking a toll and hope we get a movement in that direction, at the least, why cant Badi B be found by the other members of the family but in coma so that she will be unable to divulge the truth about Razia and her voice be brought back in the next face-off whenever its planned.

 The viewers have fallen in love with Asad as Akdu Ahmed Khan, yes love has changed him, he has found a way to his "seene mein dil" but who says a 30 year old cant indulge in a matured romance, there is a thin line which separates childish from child- like, hope the makers give us the realistic feel of a matured love story once the four wishes of the crazy little girl gets over with (the fandom does not include only 16+) 

 Aunt Polly had a word with Aunt TRP:Qubool Hai has garnered the best ever TRP rating (3.6) and is one among the top 5 across GEC.Just wanted to put a note to the makers of the show: QH is blessed to have the best of the cast currently on TV and Asad-Zoya have become the USP of the show but taking a cue from BV and DABH who are currently the top TRP chartbusters, I hope Gul and team work on the story lines which will include the marvelous supporting cast and if need be, revolve the story around Asya to keep the fan base happy. 
  Signing off 
 Stay Blessed!!!

pollyanna

Channel Moderator





Posts

: 5890


Join date

: 2013-02-02


Location

: Bangalore,India




perfumeheaven

Moderator





Posts

: 2326


Join date

: 2013-05-08


Location

: Trinidad and Tobago



 Pals.....
 I have missed so much in these 2 months.......Lets see if I can catch up again....managed to get updates from this page.So how much more Sallu dose they plan to give?? Even Ayan was initially introduced with Sallu's number...now Akudu Ahmed Khan is made to play...? Kind of too much....or they can't explore newer avenues??But over all looks like this week had been much lighter...than last one month....except for Badi B drag....Even after a complaint on showing ill treatment of older people....why they can't cut short it??You have appreciated Ayan-Humeria for the last 2 weeks.....just wanna see what it starts revealing in the story given that Zoya will get to know her where abouts of her in the following days...... In that case this parallel lead will lead Zoya towards her goal\Asad n his family's reaction for her real father.....all should be coming...... 

lalsunvid

Bronzie





Posts

: 231


Join date

: 2013-02-04



Akhdu ko Goli Maar...How could you not menshun the Jacket worn by Ayan ??  *SOB, SOB*

 
P:S ..why is Humeira in Rajini form ??

Tanthya

Dazzling Diamond




Posts

: 16602


Join date

: 2013-02-04



Tanthya wrote:Akhdu ko Goli Maar...How could you not menshun the Jacket worn by Ayan ??  *SOB, SOB*

 
P:S ..why is Humeira in Rajini form ??
 Not GoliMaar...... KSG had a lizard kind of looks in few shots......with that uncut hair...n of course his jacket....:>//: :>//: 
We were introduced Ayan with a different person.....n he made a super dooper entry in a bicycle....:lol!:  and I can never forget that Rishab's shoes and his hair do!!!

lalsunvid

Bronzie





Posts

: 231


Join date

: 2013-02-04



Thanks darlings :)
@Sathu: Humeira as Rajni--she has had memory loss...but looks like she is pretending to get to know the real feelings of Ayan and in the process will unearth some truths of Razia....but I wont be surprised if this is just to DRAG the show too.....i have lost hopes  so am having least expectations.

@Vid: dear...missed u much, hope to see u now on a regular basis.U know Guls' fav is Sallu miya so he has to be omnipresent in all her shows. 
I just hope they start with the next phase of the story...cant tolerate much mush..... :(

pollyanna

Channel Moderator





Posts

: 5890


Join date

: 2013-02-02


Location

: Bangalore,India



---
Permissions in this forum:
You
cannot
reply to topics in this forum