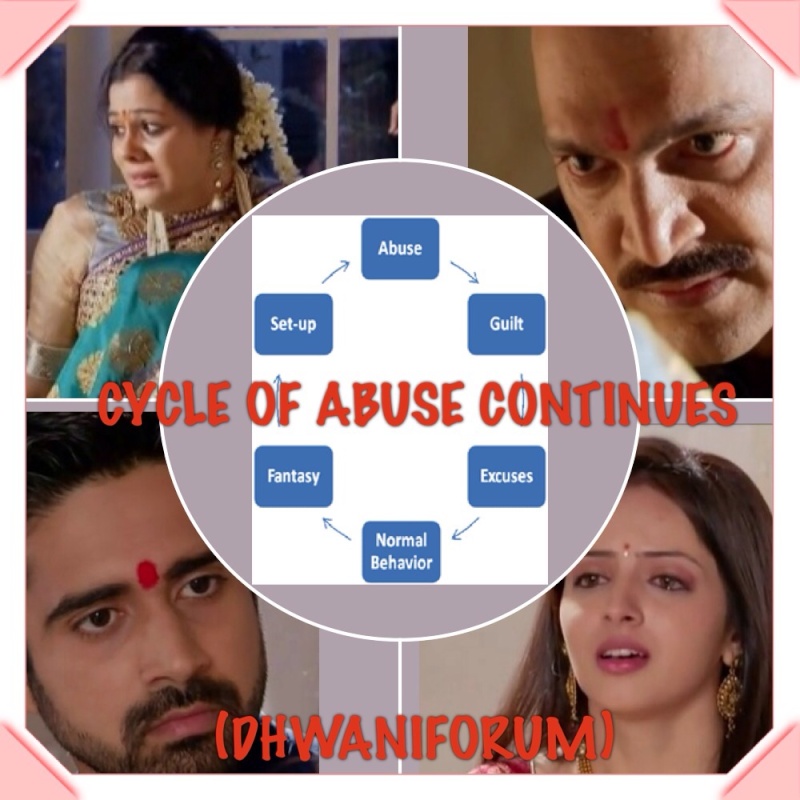 Astha and Shlok shared a moment after the milk bath. Very sweet scene. Then Shlok reluctantly left and Astha gently closed the door ... The camera panned on the door closing and stayed there for awhile.  Felt like it was a symbolic door closure , a rosy chapter has ended. Soon afterwards Shlok will show his true self... I felt a chill run down my spine... We all know how this story is going to turn... Shlok will turn into an abusive derranged husband but Ashtha will still love him and find a way to make him understand what love is and Shlok will change his way.... Isn't that how it happens in soaps? Happily ever after? Maybe it will be different this time... Naya Soch..
Reality for abused women is so different... So many girls stay with their abusive husbands thinking it is somehow their fault... They have done something wrong and hence should be punished. Anjali sure seems to fall under that category. Kudos to Anjali's parents who atleast tried to get Niranjan arrested. I bet, Anjali didnt giver a truthful testimonial  and that's why Niranjan is roaming Scott free.
How will Ashtha deal with this I really don't know... But I would really like to see a pragmatic  portrayal for once on TV. Shlok needs professional help, he needs to see a psychiatrist or some trained professional who can help him ( before we all clamor for jail time for him). Maybe Ashtha can be the one with Naya Soch and get him help, instead of becoming a doormat.
I wonder how he became so sick? Niranjan hid his violent self quite tactfully under the guise of a pious gentleman, Anjali took all the blame... Then how did Shlok learn this behavior?  Violent behavior doesn't run in the family ( no genetic connection ) ... It's a learned behavior from witnessing parents indulge in violence. Of course there are examples where an extremely abusive couple raises quiet and behaved children ( but there might be hidden passive aggressiveness in them) ... Anyways... I don't know why Shlok is Shlok... It's a puzzle, a mystery just like his name.
I pray the CVs deal with the issue of violence and abuse delicately... It's a a very sensitive issue and many woman face it everyday. So far they have portrayed Anjali as an abused women perfectly. I hope the solutions they show are going to be useful ( not preachy) and they will NOT glamorize violence. This is their opportunity to do things right.

Shesherkobita

Dazzling Diamond




Posts

: 6421


Join date

: 2013-02-13


Location

: Pennsylvania, USA



Its been long, u made a thread in ebp...its gud to read u...i didnt watch the show yesterday, dint wanted actually so dnt knw abt whats up there...agree with u completely...shlok name mistery?? Shlok means 'mantra' na...whats misterious abt hs name??
I barely can connect to the show n 'love' betn leads...i barely can connect to chars, dialouges n sequences...the execution is still confusing n irritating at times(even, my ever-peaceful sis is frustrated now)... so better to leave...


A.N.Jell_Zarina

Dazzling Diamond




Posts

: 2716


Join date

: 2013-07-16



Sabrina, Sush .. is this going to be a dark love story or something ??...

--sumana13--

Master Writer





Posts

: 27532


Join date

: 2013-02-04



Sabi, great post. 

Like you said, domestic violence is an issue faced by women every day. This is a chance for SP to showcase its "nayi soch" of which there has been absolutely no evidence so far. The issue is very sensitive and needs understanding to deal with. I hope they do give some useful solutions. Otherwise, it will be a wasted opportunity of monumental proportions.

Shlok means mantra btw.

slmu

Channel Moderator





Posts

: 21953


Join date

: 2013-02-04




SAYAN18

Dazzling Diamond




Posts

: 3514


Join date

: 2013-02-13


Location

: India



---
Permissions in this forum:
You
cannot
reply to topics in this forum