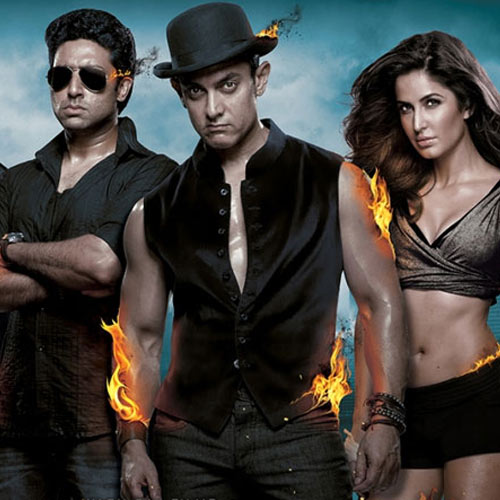 Film: 
Dhoom 3
Rating: 
****
Director:
 Vijay Krishna Acharya
Starring: 
Aamir Khan, Abhshek Bachchan, Uday Chopra, Katrina Kaif and Jackie Shroff
What it's about:
India's answer to
 The Fast & The Furious
 is here. Welcome to the world of jaw-dropping action and stunts never seen before on Hindi screen. 
Dhoom 3
 redefines the word 'entertainment' in the grandest way possible. This time, the setting is Chicago and we're sure producer Aditya Chopra shut down the city while shooting all the action sequences.
Sahir (Aamir Khan) is the bank robber with a motive and mission. He also owns a circus. Katrina Kaif (Alia) is part of his troupe. When Chicago police fail to capture him, ACP Jai Dixit (Abhishek Bachchan) and partner Ali (Uday Chopra) are called in from India to decipher the signature messages (in Hindi) that Sahir leaves behind every time.
Sahir wants to destroy the Chicago bank because it killed his father (Jackie Shroff) and he won't stop till he achieves his goal. To reveal more in detail would mean risking revealing the twist. But suffice to say, it is not like the Hollywood film
 Now You See Me at all.
The only similarity is the circus or magic show and scenes of currency notes falling from the sky. There is a bit of 
The Prestige 
too but apart from that, it is all original work.  
What's good:
When you go to see a
 Dhoom
, you know what to expect – great chases, fast bikes, pulse-pounding action and glamorous girls. 
Dhoom 3 
has all of it in abundance.
Director Vijay Krishna Acharya (
Tashan
) delivers scale and setting that's on par with any Hollywood action thriller.
Producer Aditya Chopra sets a new benchmark as far as action goes. Every stunt sequence has plenty of highs and it is the minute detailing that makes it so believable. While the first half amazes you with the high-octane action, the drama in the second half is the highlight.
The film is slick, cutting-edge and superbly executed. Among the performances, Aamir Khan leads the show with a stellar performance. Abhishek Bachchan shows tremendous restraint and manages to match Aamir in every scene. In some scenes, when the two are together, there are times when you can't take your eyes off AB Junior.
Uday Chopra is funny in parts despite being stuck with a role that has nothing new to offer. Katrina Kaif makes her first entry in 2013 with a bang! Her character is not completely explored but the magic she brings on screen is unparalleled.
Watch her in her introduction scene – just like Aamir, you won't be able to take your eyes off her.
Dhoom 3
 is Kat's message to those willing to marry and send her off that she is not going anywhere. 
What's not:
There are glitches in the screenplay that could have been avoided. For a heist film, what is strange is that there's not a single heist shown. You never know how it was executed. The heist gets over and all you will see is Sahir running out of the bank. Every single time.
Also, he is the owner of the circus but it seems more like a song and dance show. Even when run by his father, it is more a magic show than a circus. The chase scenes could have been crisper too. They just go on and on.
In the previous films (
Dhoom 
and 
Dhoom 2
), there was enough for every character. This one focuses too much on Sahir. It's like he is in every frame. The introduction scene of Jai and Ali -- in a auto rickshaw -- is the biggest sore point in the film. It belongs in a south remake, not a
Dhoom
 film. You are left wondering why they weren't given an intro scene on par with Aamir and Katrina.
Aamir and tap dancing don't go together. Your eyes keeping going behind him to the accomplished backup dancers. Wish the choreographer had seen that, instead of giving him steps that are more suited to Hrithik Roshan, And the music is poor.   

What to do: 
Watch it for Adi Chopra's vision and scale. India has truly arrived where action is concerned.
Dhoom 3
 sizzles and how!
Watch the trailer:

..rosa..

Shining Silver





Posts

: 446


Join date

: 2013-09-23



---
Permissions in this forum:
You
cannot
reply to topics in this forum