Why is Ishita's dressing so outdated & out of place ? I feel her dressing specially those loud sarees & gaudy blouses do not jibe with the character of a DENTIST ! The current look iis taking away the urban working profressional character from her role and is just portraying her as a typical bahu of the indian television ! 


To add to the sarees, the perpetual puff on her hair be it day or night, lunch or dinner, party time or jail time is really not required..Plus divyanka looks so nice when she dresses in nice colors with her hair just loose (her look in her wikipedia page)I wish she could do a similar look in the show. 


Vandu is always aptly dressed, not only for her character but also the scene.. In college as a professor she wears plain cotton sarees and at home those comfortable sawar kameez in earthy colors most of the times.. Why can't Ishu return back to her cute leggins and tops as she was before marriage....


I really like DTs acting but I feel Ishita's look has been disappointing specially after her marriage. 


I dont know if anyone agrees !! But if the YHM team to begin with can get rid of those puffs from Ishitas routine look it would be a nice change... And then pls make her wear normal clothes that make her character more real and look more pleasant !!

Buvna

Newbie





Posts

: 117


Join date

: 2014-03-20



Ishita has been given the worst looking sarees.. not one of them is pretty. Compared to Shagun and Vandita, her clothes are pathetic. She does need a wardrobe makeover and I agree, there is no reason for her not to wear salwar suits.

slmu

Channel Moderator





Posts

: 21953


Join date

: 2013-02-04



Oh my gawd! Buvna! I have been feeling so strongly about this for ages!! Her clothes are really jarring!! 
All her sarees seem to be made out of some curtain drapes with lace and glitzy borders added as trimmings! Urgh! SOmetimes I just want someone to set fire to her suitcase full of god-awful clothes!
And I love the way Vandu dresses! And even Amma wears nice sarees! How can two sisters have such disparate tastes?!!
Also, I soo agree with you about the puff!! We've had too much of it! Ishita looked hottest in this scene in the entire duration of the show and her hair was wet and seemingly uncombed :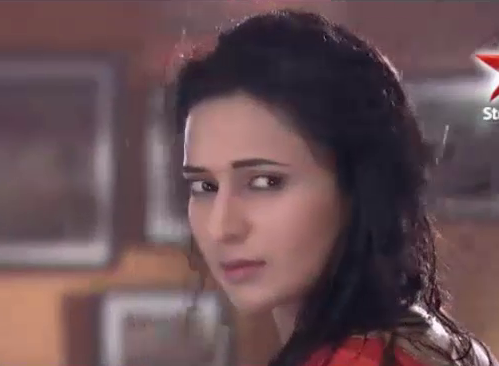 (apologies for the poor picture quality but I'm sure you guys remember this well)

hooked

Dazzling Diamond




Posts

: 2930


Join date

: 2014-03-01


Age

: 29


Location

: Kolkata



 its the age old law in hindi shows....make everyone but the heroine look good...in most cases there outfits r sub standard

sarra0

Dazzling Diamond




Posts

: 11312


Join date

: 2013-02-04



---
Permissions in this forum:
You
cannot
reply to topics in this forum