HUMSAFARS:Life in a page..oct.9th 2014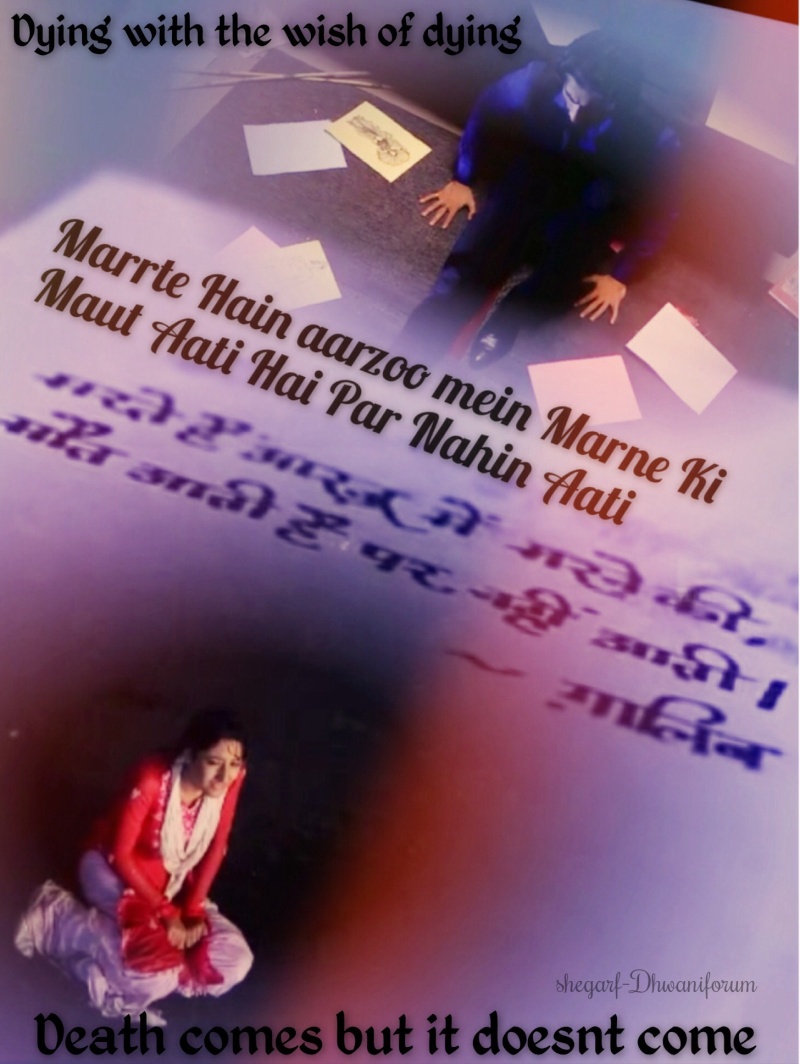 A lone paper floated over from the ones Saahir was throwing around in extreme anger.It was a fleeting moment..but it caught my eye.And there in the water of the pool...the depth of the words diluted and slowly vanished ,taking with it the precious look into the broken hearts of Arzoo and Saahir.The sadness in those words bore into my eyes and a slight pain rose in my heart for the two strong soldiers and their bitter circumstances.



Shegarf71

Moderator





Posts

: 5198


Join date

: 2013-02-04



Papers are can be one of the greatest pain bearers at time, when one can't share with anyone, we share it with a paper.. So we the vessel of our hearts is full, it's spills on paper:-)))))))):

Jhalak29

Bronzie





Posts

: 159


Join date

: 2013-02-05



papers allow u to bear your soul, your pain, your thoughts without actually sharing anything wit a person...it allows u the privacy but also the release...

sarra0

Dazzling Diamond




Posts

: 11312


Join date

: 2013-02-04



Very true jhals and Sarra
a quiet observer and a willing companion...used at will..
a paper and a quill

Shegarf71

Moderator





Posts

: 5198


Join date

: 2013-02-04



Shegarf71 wrote:Very true jhals and Sarra

a quiet observer and a willing companion...used at will..

a paper and a quill
u forgot the ink 


sarra0

Dazzling Diamond




Posts

: 11312


Join date

: 2013-02-04



sarra0 wrote:

Shegarf71 wrote:Very true jhals and Sarra

a quiet observer and a willing companion...used at will..

a paper and a quill

u forgot the ink 
Quill ke saath ink hota hai

Shegarf71

Moderator





Posts

: 5198


Join date

: 2013-02-04



Shegarf71 wrote:

sarra0 wrote:

Shegarf71 wrote:Very true jhals and Sarra

a quiet observer and a willing companion...used at will..

a paper and a quill

u forgot the ink 

Quill ke saath ink hota hai
old fashion style ink separate hota hai 


sarra0

Dazzling Diamond




Posts

: 11312


Join date

: 2013-02-04



---
Permissions in this forum:
You
cannot
reply to topics in this forum